As all you tech lovers might know that MWC has started in Barcelona, so here is the launch for the Day 2
SAMSUNG
Then JK Shin CEO of Samsung talked about their S Devices
"I truly appreciate the 200 million customers around the world who have chosen our Galaxy S devices."
"Our consumers do not want eye-popping technology or the most complex technology."
"What they want is durable design and performance. They want a simple yet powerful camera. They want faster, yet seamless connectivity."
"And our consumers want a phone that can help them stay fit."
Here are the specs and important pointers about the S5
Comes in Golden, White, Blue, and Black
LTE category 4
802.11ac Wi-Fi
Download Booster software
Fast autofocus in the camera, "enriched color with advanced HDR," and an improved user experience.
"Dedicated fitness tools"
Integrated heart rate monitor.
IP67-rated for dust and water resistance.
Ultra Power Saving Mode.
Samsung Knox security.
The S5 has a "unique" pattern on the back
"In your hands, a smartphone has never felt better."
Simplified UI
5.1-inch Full HD Super AMOLED display. 500 nits of brightness at the top end, but also the lowest brightness setting yet, called Super Dimming.
2800 MaH battery
"For the first time in a smartphone," you get phase-detect as well as contrast-detect autofocus. There's a companion chipset dedicated to the camera as well. 0.3-second AF. "This is the fastest ever autofocus for a smartphone."
Comes with a fingerprint scanner
Ultra power saving mode
Your fingerprint will also unlock a Private Mode, where you can see your more security-sensitive documents, photos, etc
Also is integrated kids mode
Kids Mode cuts it down to only the parts you feel comfortable your kids having access to.
S View Covers, Flip Covers, Samsung Sound premium headphones, and wireless chargers will be the accompanying accessories launching alongside the S5.




The Samsung Gear 2, Gear 2 Neo, and Gear Fit

Gives notifications about SMS, missed calls, and the like, while also serving as a way to monitor your heart rate while exercising.

The gear will be now "open"

"flexible," and "cooperative-Might work with other devices too now

Samsung to offer its first interchangeable straps, which in turn lets you customize the watch and "express your own style."

It's a standard strap, so you'll be able to indeed swap it out easily with anything else you might prefer. Samsung offers three standard straps: a black, brown, and orange one.

All devices now given a "Modern Glam Look"

Home button beneath the screen

Also extends ecosystem

Gear 2 is also water- and dust-resistant, the same IP67 rating as the Galaxy S5.




"On April 11th, we will release these incredible devices in nearly 150 countries."
UPDATE-27/2/2014-Samsung announces Exynos 5422 Octa and Exynos 5260 Hexa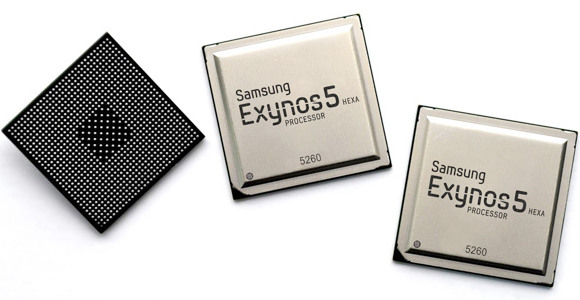 Exynos 5422 Octa.-has four Cortex-A15 cores clocked at 2.1GHz and four Cortex-A7 cores @ 1.5GHz.
The 5422, uses the big.LITTLE ARM architecture, but comes with Samsung's own tweak - HMP (Heterogeneous Multi Processing) technology. The HMP allows the device to utilize any combination of cores, even all eight, at once.
Exynos 5260 Hexa chipset, we already seen on the Galaxy Note 3 Neo.
It offers two Cortex-A15 @ 1.7GHz cores and four Cortex-A7 @ 1.3GHz cores. The processor supports big.LITTLE with HMP, so the device can use all six cores simultaneously.
Both new platforms support displays up to 2560x1600 pixels resolution.
The Exynos 5422 Octa also supports 4K video playback and recording, while the Exynos 5260 Hexa offers Full HD @ 60fps playback/recording.
Exynos 5422 Octa will enter mass production by the end of March, while the Hexa model is already in mass production.
Samsung has also introduced its newest 16MP and 13MP (16:9) ISOCELL CMOS camera sensors.
Both offer 1.12µm big ISOCELL pixels and 1080p video recording.
The 16MP sensor is capable of 1080p@60fps capturing plus burst mode at 16MP at 60fps and will enter mass production this quarter.
The 13MP one supports 13MP burst mode at 30fps and will be available in Q2, 2014.